Shaft Seals
ISC Companies and affiliate Adams-ISC are distributors of mechanical power transmission parts including shaft seals. For more information about the brands we offer and/or pricing, please contact us by phone 763-559-0033, by email [email protected], or by filling out our online contact form.
---
Equipment with rotating, reciprocating, or oscillating shafts use radial shaft seals, also called lip seals, that retain lubricants and exclude foreign matter. The seal surrounds the shaft, employing an interference fit that develops pressure between the shaft and the seal's contact surface. When the application requires the retention of grease or the exclusion of dirt, the elasticity of the rubber lip will create adequate sealing force. When oil is is the lubricant used, the seal pressure must be assisted by the use of a spring. This is referred to as a spring-loaded seal.
Axial shaft seals, also called face seals, are used for preventing leakage of process fluids along rotating shafts and the intrusion of contaminants into the equipment. Consisting of a stationary and rotating component, spring-loaded seal, and secondary seal—like an O-ring—these seals are placed on the shaft and rotate with the shaft. They can tolerate small discrepancies in placement and shaft movement.
Shaft seals are subject to a many different types of lubricants, temperature ranges, fluid pressures, equipment misalignment, dynamic shaft run-out, and varying shaft speeds. The seals are available in a variety of configurations employing different materials to accommodate specific application requirements.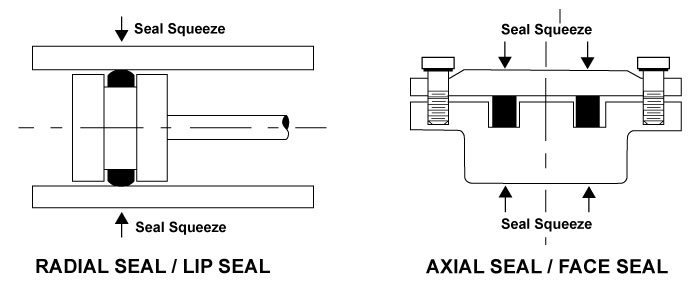 Performance Parameters
The lip of a seal rides on a thin oil film. Friction and shear in the oil film raise sealing lip temperature. As lip temperature increases, the lubricating lubricating film becomes thinner and may break down. Excessive wear and temperature also cause premature failure of the seal. Excessively low temperature causes the sealing material to become hard and brittle, which can result in wear or leakage. Both the ambient and operating temperature ranges are important factors in selecting shaft seals.
Lip seals work best with steel or stainless steel shafts. Nickel-plated surfaces are acceptable. Brass, bronze, aluminum alloys, zinc, and magnesium should not be used except under unusual circumstances.
For optimum performance, the interference fit between the sealing lip and shaft surface must be precisely controlled. The portion of the shaft in contact with the seal should be hardened to 30° Rc to minimize shaft scoring. Excessive shaft hardness tends to wear the seal.
The corner of the shaft edge can damage the sealing lip during installation, therefore, a burr-free chamfer or radius finish is recommended to prevent damage during assembly. Shaft surface finish should be smooth enough to provide continuous contact between the sealing lip and shaft surface. The shaft should retain enough lubricant to reduce friction between the sealing lip and shaft. For this reason, plunge grinding the shaft to a finish of 10 to 20 micro-in. with no machine lead is recommended.
For housings machined to accept the seal OD, bore depth (or depth to a retaining ring) should exceed seal width by at least 1/64 in. To prevent leakage, a bore finish of 125 micro-in. or less is recommended whenever lubricant pressure is present at the seal OD. If a fine housing-bore finish is not possible, coatings can be applied to the seal OD to effectively fill minor bore imperfections. The leading or entering edge of the bore should be chamfered to prevent seal damage during installation.
Seal Configurations
Spring-less seals for retaining highly viscous lubricants such as grease are employed at shaft speeds less than 2,000 fpm. For dust or fluid exclusion, the seal lip should face the contamination. A heavy-duty, multi-lip seal provides good lubricant retention under severe dust applications. But shaft speed is usually limited to 500 fpm, and the dust lip should be lubricated.
Spring-loaded seals retain low-viscosity lubricants at speeds up to 3,600 fpm. Single-lip, spring-loaded seals are the most common type. Typical applications include automotive engines and transmissions, gear reducers, and other industrial machines requiring the retaining of fluid in a housing.
Medium-duty dirt exclusion calls for a dual-lip, spring-loaded seal or two seals mounted back-to-back with lubrication between the lips.
A common seal case design includes a stiffening plate on the lubricant side of the seal. This plate does not assist in sealing, but it can prevent damage to the seal during installation. The secondary case provides extra strength and protection during assembly or operation.
Besides the standard metal case, some seals are available with a rubber OD. Housing dimension tolerances are slightly more relaxed than those for steel-case seals. The rubber OD seal may also be used when the housing bore has become slightly damaged and no longer meets the standards required for steel-case seals.The housing may be split and/or material may be porous or of a soft material. The surface finish may be damaged, rough, or machined slightly out of round, which could allow fluid to leak from between the housing bore and seal OD. The rubber OD of a seal can act as a gasket to prevent leakage from around the seal OD.
Seal Materials
Seal material must be compatible with fluid used and be able to withstand the temperatures involved with each application. The following are the five common families of materials for lip seal elements:
Nitriles are the most widely used shaft seal materials. They have good oil resistance, wear resistance, and low temperature properties, as well as low cost. Their upper temperature limit is about 225 °F. Carboxylated nitriles are more expensive than standard nitriles, but provide better wear-resistance.
Polyacrylic polymers are capable of operating at 300 °F and are also compatible with most EP additives, whereas nitriles are generally not.
Silicones are more expensive than nitriles and polyacrylates, but perform well in the presence of water, inorganic acids and bases, diesters, and non-petroleum-based brake fluids. Silicones also operate well in temperatures from -100 °F to +325 °F. Silicones are unacceptable in EP type oils.
Fluoroelastomers, like DuPont, FKM, and Viton, lip seals are used in applications with temperature requirements of -40 °F to +400 °F. It resists attack from most chemicals and lubricants that destroy nitrile, polyacrylates, and silicones.
PTFE (polytetraluoroethylene) is resistant to virtually all fluids within a temperature range of -100 °F to +450 °F. PTFE is not an elastomer, its consistency is more like wax than rubber, and does not follow shaft motion as well as most other seal materials. It cannot be bonded readily to an elastomer or a metal case. PTFE seals are expensive, easily damaged, and call for careful installation procedures.
Other materials are used but much less often. Urethanes are tough materials that are used when the highest wear resistance at low temperature is required. Butyl is used to seal non-petroleum-based brake fluids and some solvents. Both of these materials cost more and offer no advantage in most general applications. Therefore, they are specified only when their specialized characteristics justify the higher cost.
Selecting a material calls for consideration of chemical resistance, temperature range, wear resistance, and cost. The final decision is often a compromise that will satisfy several of the most important application parameters. The most important performance factor is the lip seal's ability to maintain the proper radial force between the sealing lip and the shaft surface. Anything that increases the force shortens seal life, and anything that reduces the force tends to allow leakage.
---
Top Brands We Offer
---
Content on this page was created using excerpts from the Power Transmission Handbook (5th Edition), which is written and sold by the Power Transmission Distributor's Association (PTDA).